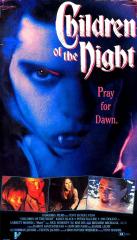 Título Original:
Children of the Night
Género
: Terror
Año:
1991
País:
USA
Duración:
92 min.
Director:
Tony Randel
Reparto
: Ami Dolenz, Evan Mackenzie, Karen Black
Sinopsis: Cindy y Lucy son dos chicas de dieciocho años camino de la universidad. Pero antes deben cumplir un ritual, y para cumplirlo han de nadar a través de la cripta de una iglesia abandonada. El crucufijo de Lucy cae al agua y se hunde, desgraciadamente, hasta el lugar donde Czakyr, un ancestral vampiro, yace. Esto hace que Czakyr vuelva a la vida y que su principal anhelo sea la virginal sangre de Lucy.