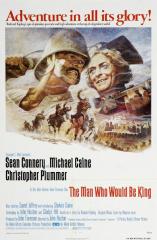 Título Original:
The Man Who Would Be King
Género:
Aventuras
Año:
1975
País:
USA
Duración:
129 min.
Director:
John Huston
Reparto:
Sean Connery, Michael Caine, Christopher Plummer
Sinopsis: Danny Dravot y Peachy Carnehan son dos aventureros que viajan a la India en 1880 y sobreviven gracias al contrabando de armas y otras mercancías. Un día deciden hacer fortuna en el legendario reino de Kafiristán. Después de un durísimo viaje a través del Himalaya, alcanzan su meta justo a tiempo para hacer uso de su experiencia en el combate y salvar a un pueblo de sus asaltantes. Está inspirada en un relato de Kipling.